Custom Professionals Worldwide
---
home
services
membership
store
links
---
FREE
One year membership
Online associates application form
Must be of legal working age.
Handyman International is creating a directory to promote professional services and products worldwide. We may display your banner for one year free, (links optional.) Twenty dollars per year membership renewal is optional. For membership considerations, complete the form below.

Handyman International will contact members as professionals are needed.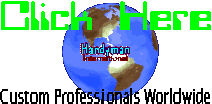 ---
home
services
membership
store
links
---
e-mail
© 1999 Copyright
Handyman International
All rights reserved