Are you a budding composer?

Virtuoso Studios would like to receive a copy of your compositions for critical review, and possible display at the Virtuoso Studios website (http://BandOfOne.tripod.com.)

Recommended, is the use of the program Finale Notepad.

Freeware, it is a simple program suitable for four instrument compositions with four voices each, and produces a legible printed copy of the music complete with lyrics and other markings. The output file type while non-MIDI, is compatable with internet browsers by installing a free plug-in. Students may use floppy diskettes (or CDs) to store and submit their compositions.

It is best to install the most up to date version. Thus you will find a link to it at the Virtuoso Studios website (and CD) on the links page (http://BandOfOne.tripod.com/links.html) Just look for this banner and click it, then, download and install Finale Notepad from their website.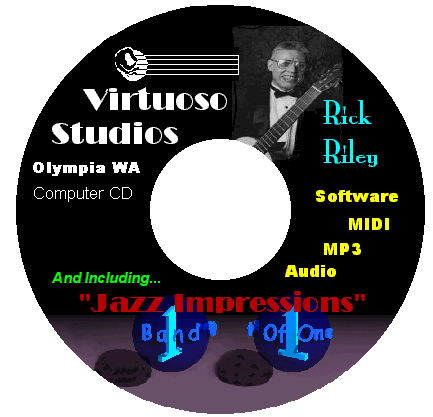 For your convenience, a copy has also been included on the Virtuoso Studios CD, along with other audio and music freeware programs included on the CD.
The CD is a current snapshot of the Virtuoso Studios - Band Of One website in addition to just containing the above mentioned software. Further, it includes the full length version (all tracks) of Jazz Impressions by Rick Riley in mp3 compressed audio format.